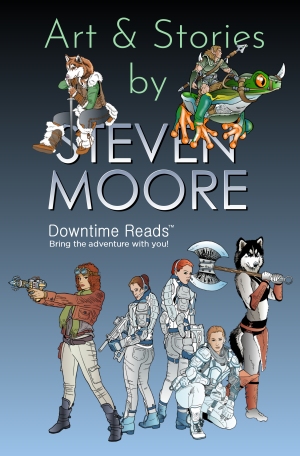 Art & Stories by Steven Moore
This book is a sampler of art and stories by artist/writer Steven Moore.
It includes The Blood-tied Stone, a complete story from the first Runes & Realms book, Gnome Legends and The Timeless Crystal, from the first Timeless Crystal book, The Time Machine.
Also included is a portfolio of original line art by Steven Moore.
The Blood-tied Stone - A powerful wizard joins a young apprentice on her quest to find her family's blood-tied stone—a magical item only her family can use.
The Timeless Crystal - A time traveler from the 1890's finds herself in a magical world filled with gnomes, elves, strange creatures and danger.
(Currently available only in paperback)