The information on this page is taken from my personal experience and any comments and suggestions are entirely my opinion. Consider this a starting point, but please research all of this for yourself to have a good, complete base to work from. These are websites with the tools I use most often when working with 3D projects. If it's difficult to find the actual download button on some of these, sorry, I didn't create the pages. HOWEVER, I did successfully download a copy from each, so—at least when I tried them— they had the programs on them.
. Don't let anyone talk you into anything different.
(Polylactic acid) - a type of plastic derived from organic sources like corn starch or sugar cane. It's typically considered a good plastic for beginners. As far as I'm concerned, for printing my models, I'm happy with it.
. Each has its good and its bad. Professional is a lot stronger. They say 5x stronger, but I'm convinced it's even better than that. HOWEVER, that means the supports are also 5 times stronger. Getting supports off of a print is a bit more difficult with the Professional. BUT, the professional print is less likely to break while you're removing the supports. The decision is up to you, but I'd recommend trying both.
Although you can buy your printes and filament from the manufacturers, I typically purchase mine from
. Prices tend to be competitive, with Prime I get free shipping, and they have a pretty good customer service.
Here's what I paint with
Just in case you were wondering what paint works well with 3D prints, this is what I use. I'm not promoting Walmart or the paint brands—there are many places you can get good paint—but I buy the cheap stuff at Walmart. HOWEVER, some paints cover better than others and you may find you have to let the paint dry and repaint it several times before you get the rich color you want. More expensive paint MIGHT cover better.
You always have to give the prints a good coat of primer. I typically use the Rust-Oleum 2X Paint+Primer. I suspect any primer will work, but this is what I like. And, if you're just doing one color, you're done after spraying. AND I like to use Matte paint. It usually takes the other paints better.
Finally, you want to hit the piece with a clear coat of paint. I prefer gloss or simi-gloss, but satin or matte would work just as well. Not only does it make the paint seem to smooth out, it also helps secure against the paint scratching off. Again, I get mine at Walmart. Again, Rust-Oleum 2X is my favorite, but you do you.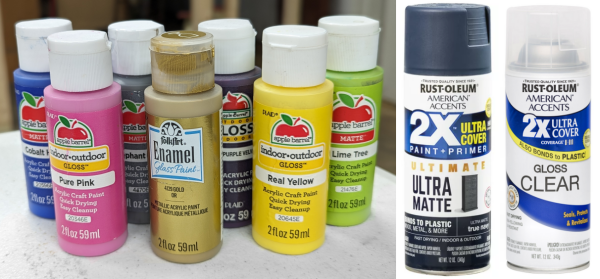 This really is probably about the extent of what I can do to help you get started, however, if you would like to cantact me to ask questions or make comments, I'd love to hear from you:
steven@grimtrojan.com